Carbon Monoxide
Protecting your family and home from lethal carbon monoxide poisoning is simple: Keep a Carbon Monoxide Detector on every floor of your home, at least four feet from the floor. KEIL ensures that your home is equipped properly with these life-saving detectors and offers installation and maintenance on a brand we recommend over all others:
The NSI 3000
• Provides protection for all age groups and conditions, especially infants, children, the elderly, and highly sensitive or ill people. (Other detectors barely provide minimal protection for healthy adults.)
• Lets you know there's a problem before reaching dangerous, even deadly CO levels, long before the other detectors even begin to work.
• NSI's Model 3000 Monitors employ the same electrochemical sensor technology found in professional CO Analyzers that cost thousands of dollars. These monitors are calibrated using CO, not electronic guesswork.
• Replaceable 9V battery ensures operation even when power is out. 3-year limited warranty
• Continuous Scan™ mode lets you know monitor is checking for CO – 24/7
The Benefit of a Carbon Monoxide Detector: Carbon Monoxide Poisoning
• Common Misconceptions and the Common Symptoms of CO poisoning?
• How and where is Carbon Monoxide produced and what are the sources of Carbon Monoxide?
• What is the allowable (legal) limits for exposure to Carbon Monoxide
• The best time to check the batteries on your CO monitor is the same time you change your clocks for Daylight Savings Time.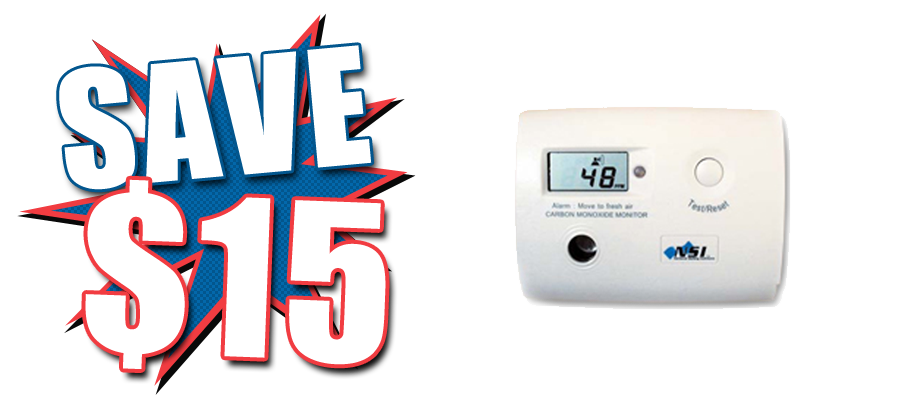 $15 Off on an NSI 3000 Professional Low Level Carbon Monoxide Monitor

Your family needs the added CO sensitivity required for infants, children and grandparents. The NSI 3000 lets you know there is a potential life threatening problem before the carbon monoxide reaches dangerous levels and long before other carbon monoxide detectors even begin to work.

Call 800-300-KEIL to take advantage of this special offer.