Honeywell and Aprilaire Digital Setback Thermometers
A digital setback thermostat is designed for people who are constantly in and out of the home. With this thermostat, you can program the temperature to 'set-back' when you are not at home, which saves money and energy!
What sets KEIL setback thermostats apart from all others? Ours come with a lifetime replacement warranty. You can't ask for more than that! Digital setback thermostats are also available in two-stage models which are perfect for today's super high efficient two-stage systems.
KEIL's most popular setback thermostats:
NEST
Programs itself. Then pays for itself.
Meet the 3rd gen Nest Learning Thermostat. It has new rings and a big, sharp display. And it saves energy. That's the most beautiful part. The 3rd gen Nest Learning Thermostat does. It learns what temperature you like and builds a schedule around yours. Since 2011, the Nest Thermostat has saved over 8 billion kWh of energy in millions of homes worldwide. *And independent studies showed that it saved people an average of 10-12% on heating bills and 15% on cooling bills. So in under two years, it can pay for itself. LEARN MORE
Aprilaire Model 8620W WiFi Thermostat with IAQ Control
Along with precision temperature accuracy and effortless programmability, the Model 8620W WiFi Thermostat gives you options for controlling the remaining aspects of indoor air quality—humidity, fresh air and air purity. All that, and it's simple to use!
The Aprilaire Model 8620W WiFi Thermostat with ​IAQ Control:
Saves you money on energy costs: Set back the temperature overnight and when you're away. The WiFi Thermostats improve accessibility. "Away" and "Heat Blast" buttons allow easy over-ride of the schedule.
Offers Event-Based™ Air Cleaning: When paired with a Whole-Home Aprilaire Air Purifier, this feature allows you to clean your home's air on your terms.
Offers humidity or air freshness control options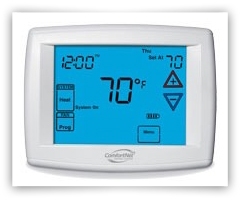 ComfortNet™ Communicating Control System
Our ComfortNet™ digital control works with KEIL our top of the line ECM-based furnaces and air handlers and our 16 & 18 SEER two-stage air conditioners and heat pumps.
Features:
Automatic system configuration ensures system is working at its maximum efficiency
Exclusive "Call for Service" diagnostic indicator
Large 12 square-inch display with extra-large touch keys, (/)
10-second backlight, and large easy-to-read character sizes
Unique color-coded temperature touch keys for quick adjustments
Clean, uncluttered touchscreen display provides easier navigation
Intuitive menu-driven programming with audio beep prompt
Simplified dual-fuel compatibility without the need for extra controls
Built-in dehumidification controls
Your choice of seven-day programmable or non-programmable functionality
Programmable fan and comfort circulating fan
Selectable energy management recovery program
Remote outdoor temperature sensor
Hard-wired with battery back-up
Active system diagnostics —All control board error codes are mirrored (/)
at the display
ComfortNet Family of Products
Click to download brochure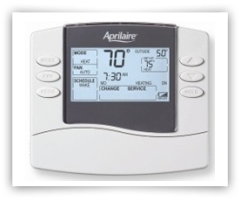 8400 Series Programmable Thermostats
are easy to program and offer a combination of simplicity, value, reliability, comfort and style. Other benefits include:
Easy to Use Temperature Control and ability to override the program schedule at any time.
Progressive Recovery assures that the heating and cooling equipment starts at the optimum time to reach choosen temperature by the time you want it.
Choice of 5/1/1 Day or 5/2 Day Programming. This allows for customization of your weekday and weekend schedule based on your needs.
Features:
Large LCD Screen with high contrast - for easy reading.
Outdoor Temperature Reading for convenience and comparison (requires optional outdoor temperature sensor).
Circulate Fan Mode means that the fan comes on for 10 minutes every 30 minutes for better indoor air quality plus reduces hot and cold spots within your home.
Service Reminder tells you when you should change your air filter to protect your equipment and water panel to keep your humidifier running in optimum condition. It also can remind you to service your equipment or whole-home dehumidifier to insure the longevity of your investment.
Click to download the 8400 series Owners Manual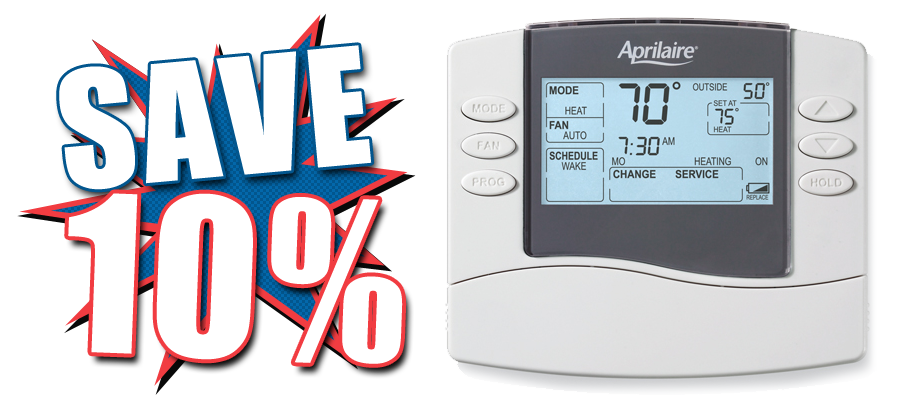 SAVE 10% on an Energy Efficient Digital Thermostat

(Save 20% on two and 30% on three or more thermostats!)

Unlike old, manual thermostats our digital thermostat contains no mercury, has precise temperature readings and has a clock. Besides these basic perks you will also have the option of manual 5+2 day or 7 day programming; easy-to-see LCD screen and AA battery powered operation.

Call 800-300-KEIL to take advantage of this special offer.