Generators
Everyone remembers where they were in the last major power outage. The loss of electricity is an uncomfortable, frightening, even life threatening event that is generally completely unpredictable. With a natural gas or propane fired whole house back up system, you would never have to worry about enduring a power outage again.

Remote Monitoring
KEIL will install your new generator complete with a remote monitoring system. With this, you and KEIL can keep tabs on every aspect of your generator, 24 hours a day and if you like you can too! With Mobile Link you can monitor your generator on a smart phone, tablet or computer. If your generator needs an oil change, maintenance, service or any type of attention we will know immediately. Even if you are away on business or a vacation KEIL will be informed that your generator needs attention and we can take care of it even in your absence.
Design Consultants
Our trained design consultants will work with you to design the correct backup generator for your home. They will perform a complete load calculation to insure that your new generator will perform flawlessly in any situation.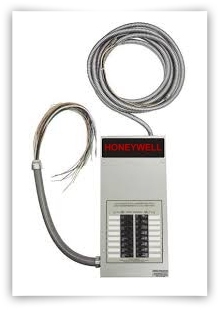 Whole House vs. Selective Circuit Approach
The choice is yours. We can provide you with a generator sized to power your entire home or we can provide you with a generator sized to power only the selected circuits in your home. Providing you with options allows us to ensure you receive the protection you need at the budget you want.
Trained Installers and Technicians
Our technicians have been trained by the factory to properly install, service, maintain and warranty Honeywell and Generac generators. We stock a wide variety of replacement parts to ensure you are not without your generator for a minute longer than is absolutely necessary.
Permitting Process
KEIL will insure that the installation of your new generator meets with all the specific manufacturer requirements and with all of your municipal and state codes. We file for all of the necessary municipal permits and ensure your new installation passes all construction, electrical, plumbing, fire and zoning inspections. We even work with your utility company to ensure that your underground gas line is sized correctly for the added gas usage.
Warranty Service
When you have a Honeywell backup generator installed by KEIL you automatically receive a full 5 Year Parts and Labor Warranty. KEIL will support your Honeywell Guarantee and provide you years of service even after your warranty has expired.
Click here to Apply for financing (Subject to approved credit)