Natural Gas/LP, Condensing, Hot Water Boilers
A hot water boiler is an appliance used to heat water for a hydronic heating system. The hot water is distributed through the home in pipes into the rooms with either a steel radiator (newer homes) or cast iron radiator (older homes) or baseboard convectors or "fin-tube"(newer homes). Once the radiator or baseboard fin-tube convector is heated with the hot water, the water is returned back to the boiler to be re-heated and the water circulation loop continues.
Condensing Hot Water Boilers are the most advanced and efficient type of boilers. They do not use a traditional chimney to exhaust combustion gases, instead using a two pipe, PVC direct vent system that brings in fresh air from outside for combustion and exhausts the combustion gases out through a second pipe. This type of venting is usually done through a side wall and not through the existing chimney.
Financing is Available, subject to approved credit. Contact Us today. Click for rebates
Class-leading 70,000, 110,000, and 155,000 BTUH models
ECO Wall Mount Gas Boiler
Exceeds Energy Star requirements at 95% AFUE efficiency rating
Durable stainless steel fire tube heat exchanger
Streamlined design configurable for installation
Display can be mounted on the boiler or wall (up to 2' away)
Components positioned for fast and easy service
Multiple vent configurations and material options
Optional accessories to match virtually any installation
Click here to Apply for financing (Subject to approved credit)
View Brochure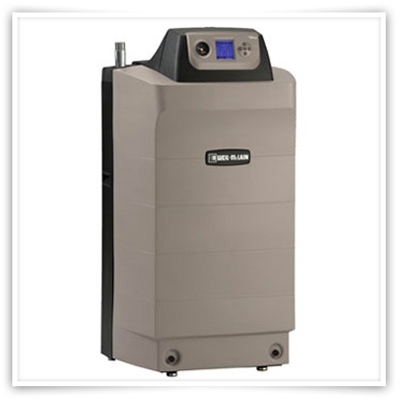 Ultra S4 Gas Boiler
Cast aluminum coated heat exchanger
Up to 94% DOE AFUE efficiency
Designed to operate in low temperature condensing applications
Outdoor reset and domestic hot water priority
Modulates with 5:1 turn-down ratio
High grade stainless steel burner features quiet operation
U-Control gives you the power for easy set-up and maintenance:

Multiple set-up and zone options
System sensing recognizes system and outdoor temperatures
Temperature management for up to three different set-points
Control multiple boilers from a single control panel
Standard screen messages provide service alerts and maintenance reminders

Click here to Apply for financing (Subject to approved credit)
View Brochure
Navien NFB Series and NHB Series High Efficiency Condensing Boilers for Residential Applications
All Navien NFB and NHB boilers have Navien's advanced burner system.
The industry's largest turn down ratio means easier installation with
multiple zones while maintaining high operational efficiencies.
Much more energy efficient than old fashioned boiler systems
95% AFUE recognized as Energy Star Most Efficient rating
Energy Star certified
Backed by the industry's strongest warranty - 15 years limited on heat exchangers
Takes up about 80% less space than traditional floor standing boilers
Longer lasting than traditional floor standing boilers
Easy to use control panel
Elegant, clean appearance
Improves resale value
Ideal for replacements or new construction
Click here to Apply for financing (Subject to approved credit)
View Web Page
When upgrading to a condensing boiler it is usually a good idea to incorporate an indirect water heater or to install a new direct vent water heater so as not to "orphan" a chimney vented water alone in a chimney it will not vent properly through.