Natural Gas/LP, Condensing, Hot Water Boilers
A hot water boiler is an appliance used to heat water for a hydronic heating system. The hot water is distributed through the home in pipes into the rooms with either a steel radiator (newer homes) or cast iron radiator (older homes) or baseboard convectors or "fin-tube"(newer homes). Once the radiator or baseboard fin-tube convector is heated with the hot water, the water is returned back to the boiler to be re-heated and the water circulation loop continues.
Condensing Hot Water Boilers are the most advanced and efficient type of boilers. They do not use a traditional chimney to exhaust combustion gases, instead using a two pipe, PVC direct vent system that brings in fresh air from outside for combustion and exhausts the combustion gases out through a second pipe. This type of venting is usually done through a side wall and not through the existing chimney.
Financing is Available, Contact Us today. Click for rebates
Class-leading 70,000, 110,000, and 155,000 BTUH models
ECO Wall Mount Gas Boiler
Exceeds Energy Star requirements at 95% AFUE efficiency rating
Durable stainless steel fire tube heat exchanger
Streamlined design configurable for installation
Display can be mounted on the boiler or wall (up to 2' away)
Components positioned for fast and easy service
Multiple vent configurations and material options
Optional accessories to match virtually any installation
View Brochure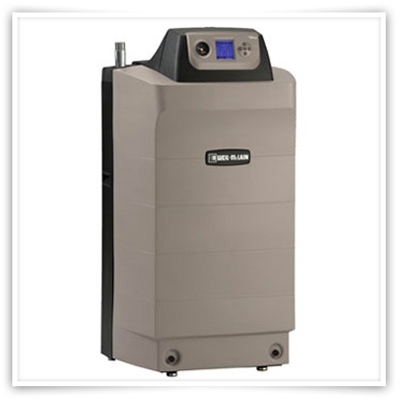 Ultra Gas S3 CT Gas Boiler
Since it's unveiling in 2002, the ultra condensing boiler has set the industry standard for innovation, design, ease of installation, reliability and efficiency. Now, Weil-McLain is taking the industry standard to a new level with the introduction of the Ultra Series 3. The Ultra Series 3 delivers peace of mind, unmatched comfort, and immediate payback in energy savings for homeowners.
Gas fired water boiler with cast aluminum heat exchanger
Venturi mixing body mixes air and gas providing higher efficiency
Designed to operate in low temperature condensing applications
Outdoor reset and domestic hot water priority standard
Negative regulated gas valve precisely delivers gas to the boiler
U-Control gives you the power for easy set-up and maintenance
Modulates with 5 to 1 turn-down ratio
Variable speed motor matches combustion output to heating needs
High grade stainless steel burner features quiet operation, high efficiency, and cleaner combustion for low NOx applications
View Brochure
WM97+ CT Wall Mount Gas Boiler
70,000; 110,000 & 155,000 BTU input models at 95% AFUE
Stylish, compact wall mount design for easy installation, service and maintenance
Unique condensing stainless steel fire tube heat exchanger design
Built-in boiler circulator
Built-in primary/secondary piping option
Pre-wired terminal strip for quick and easy electrical connections
Convenient indirect-fired water heater connection
Capable to vent with PVC, PP and SS up to 100'
Multi-color LCD display with text - no codes
CT - Condensing Technology - 5 to 1 turndown ratio
Aqua Logic indirect fired water heater compatible
View Brochure
When upgrading to a condensing boiler it is usually a good idea to incorporate an indirect water heater or to install a new direct vent water heater so as not to "orphan" a chimney vented water alone in a chimney it will not vent properly through.