Schedule Your furnace Repair | KEIL Heating and Air Conditioning
Call 800-300-KEIL or Complete Form Below
KEIL operates under a single ideal, and it is that you—our valued customer—are comfortable at all times. Because of this ideal:
KEIL is available by phone 24 hours a day, 7 days a week, 365 days per year for any emergency.
KEIL technicians and field staff are constantly expanding their knowledge and skills, with mandatory weekly technical and manufacturers training in our training center. With this regular training, KEIL can ensure that our technicians know exactly what needs to be done, safely and efficiently.
For your protection, every employee of our KEIL family is completely prescreened and is hired only with glowing recommendations of trust and skill. Additionally, as an advisory board member of all the local trade schools, KEIL has the first-choice of the best and brightest entering the HVAC field.
KEIL possesses the most cutting edge tools in the industry, allowing us to detect gas leaks, breaches in heating systems, and other normally hard-to-diagnose-problems that can come up in your HVAC system.
Don't take our word for it; Discover the KEIL experience for yourself! Fill out this short form, and a customer service representative will contact you shortly to schedule an appointment!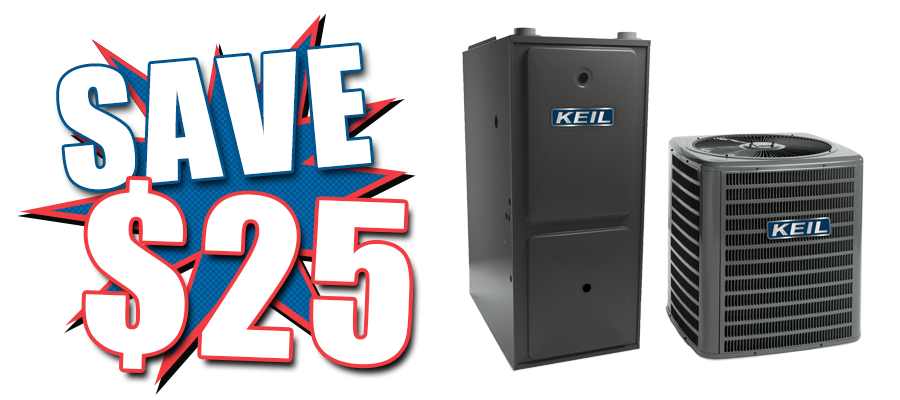 $25 Off on a Service Call Diagnostic Fee
Are you experiencing a problem with your gas heat, water heater or other home comfort system equipment? Schedule an appointment today to have one of our expert technicians come to your home and resolve any problems you are experiencing!
Call 800-300-KEIL to take advantage of this special offer.
Schedule a
SERVICE / REPAIR EVALUATION