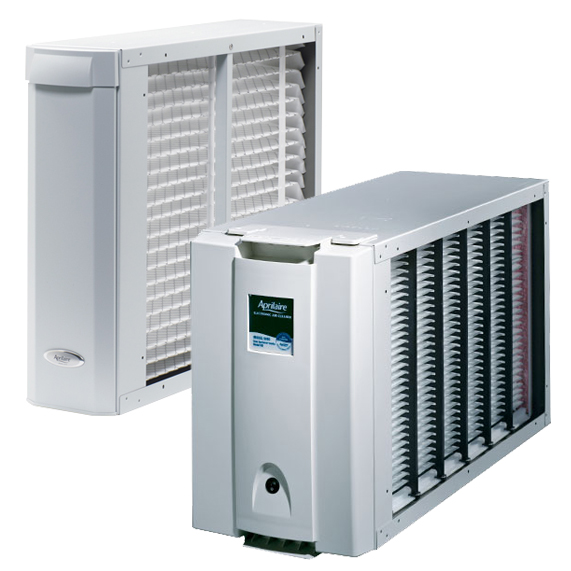 How to choose the correct air filter for your needs
Let's start with how air filters are rated for efficiency. The scale that air filters are rated with is called the MERV Rating. MERV is an acronym for Minimum Efficiency Reporting Value. MERV was developed by the American Society of Heating Refrigerating and Air Conditioning Engineers, ASHRE. The rating if for a filter's ability to remove duct from the air as it passes through the filter. The higher the MERV rating the smaller dust particles have to be in order to pass through the filter.
The MERV rating scale ranges from 1 (least efficient) to 20 (most efficient) and the measurements used for sizing particles are in microns. 1 Micron = 0.001 Millimeter or 1/1000th of a millimeter.
The vast majority of one inch wide air filters found in residential applications are rated on the MERV scale between 1 and 4. These include disposable spun fiberglass filters, Hogshair filters and reusable plastic electrostatic air filters. These are the most common types of air filters because they are inexpensive and fit into either the furnace blower compartment or a fabricated one inch filter rack in the air duct system.
Enhanced air filters may be adapted to any air duct system provided the air duct system is properly sized. The greater the MERV rating the more restrictive the air filter is to air passing through it. If the air duct system is properly designed with a MERV 16 air filter in mind it will be much larger that an air duct system designed for a MERV 1 air filter.
In addition to proper duct design the furnace or air handler blower motor size must be taken in to account. The blower motor must be sized properly to ensure sufficient air flow on both the return and supply sides of the air duct system. This must be achieved in order to provide proper comfort throughout the home and to protect the equipment from premature failure.

Air Filter Models
Model 5000 -MERV 16
Best for: Asthma, Severe allergies, Respiratory issues, Dust build-up, Heating and cooling equipment protection
Removes: 99% of mold and pollen, 98% of dust and pet dander, 98% of bacteria and fungi, 98% of tobacco smoke and smog, 80% of viruses and ultra-fine particles
Model 3000 Series - MERV 13
Best for: Moderate allergies, Dust build-up, Heating and cooling equipment protection
Removes: 98% of mold and pollen, 97% of bacteria and fungi, 96% of dust and pet dander, 75% of tobacco smoke and smog
Model 2000 Series - MERV 10
Best for: Moderate allergies, Dust build-up, Heating and cooling equipment protection
Removes: 98% of mold and pollen, 97% of bacteria and fungi, 96% of dust and pet dander, 75% of tobacco smoke and smog
Model 1000 Series - MERV 11
Best for: Dust build-up, Heating and cooling equipment protection
Removes: 94% of mold and pollen, 72% of bacteria and fungi, 56% of dust and pet dander
MERV
MERV: 1–4
Min. Micron Size (μm): > 10.0 μm
Typical Controlled Contaminant: Pollen, dust mites, cockroach debris, sanding dust, textile fibers, carpet fibers
Typical Application: Basic Residential
MERV: 5–8
Min. Micron Size (μm): 10.0–3.0 μm
Typical Controlled Contaminant: Mold, spores, dust mite debris, cat and dog dander, hair spray, fabric protector
Typical Application: Better Residential, general commercial and industrial workspaces
MERV: 9–12
Min. Micron Size (μm): 3.0–1.0 μm
Typical Controlled Contaminant: Legionella, Humidifier dust, Lead dust, Milled flour, Nebulizer droplets
Typical Application: Superior Residential, better commercial and industrial workspaces
MERV: 13–16
Min. Micron Size (μm): 1.0–0.3 μm
Typical Controlled Contaminant: Bacteria, droplet nuclei (sneeze), cooking oil, most smoke and insecticide dust and most face powder
Typical Application: hospital & general surgery
MERV: 17–20
Min. Micron Size (μm): < 0.3 μm
Typical Controlled Contaminant: Virus, carbon dust, sea salt, smoke, Electronics & pharmaceutical
Typical Application: manufacturing cleanroom