Duct Work: Additional Return Air and Return Air Runs
Solve most system airflow problems and increase efficiency
Why is Duct Work Important?
Insufficient return air is a very common problem for furnaces and central air conditioners. It is also a problem that can be easily cured. Ductwork is based entirely on air flow and math, and if air ducts are not properly sized based on the amount of air needed to pass through them the system will not function properly or at its designed efficiency.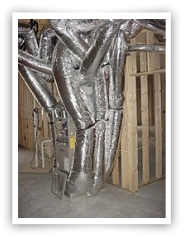 What It Means for Your System To Be Short on Return Air
Imagine a 12 lane highway with cars traveling in six lanes an each direction at 65 miles per hour. This highway is humming and cars are freely moving toward their final destination with no resistance. Until, the south bound lanes hit a toll plaza and the toll plaza has only three working tolls and none are EZ-Pay lanes. What happens, the southbound lane slows to a crawl and eventually backs up for miles because six lanes of traffic do not easily fit into three lanes of tolls. The next thing you know the north bound lanes begin to slow because they want to know what is happening to the south bound lanes. Before you know it neither lane of traffic is flowing to its capacity.
This is exactly what happens when your heating and cooling system does not have enough return air. The air gets caught in traffic and instead of moving 1,200 CFM of air your system is only moving 600 CFM and now the system is noisy, not heating or cooling properly and you are not comfortable in areas of your home.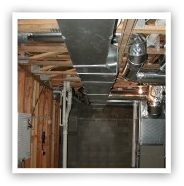 What is the solution to energy inefficiency?
The first step in solving air flow problems is to check how efficient your system is. In this case the system includes the furnace, coil and condenser along with the air filter, duct work, insulation and the supply and return registers.
Once KEIL evaluates the capacity of your system, we can perform further testing to determine how to enhance it so that it will operate as close to it's potential capacity as possible.
The Benefits of Taking Care of Airflow Problems
Quieter operation
Improved airflow throughout your home
Fewer repairs due to overheating
Longer equipment life
Lower utility bills
Greater comfort
Click here to Apply for financing (Subject to approved credit)